In May, the reality of the pre-launch of my 3 new beauty products from my cosmetics line, Genuist Beauty, loomed large over me. Over the last 28 years, I have faced the challenge of juggling multiple facets of my career such as running an award-winning beauty salon in Atlanta, doing brows locally and nationally where I travel to clients around the U.S., and lastly, creating a cosmetics line that centers around sustainable packaging and natural, but effective formulations that are easy to apply. With an already jam-packed work schedule, I didn't know how I would find the time to sit down and write about the products I have created that are currently being shipped to our studio for pre-release to my clients soon. I needed a place where I could avoid the distractions I routinely confront in Atlanta. So, I decided I needed a workcation that was an easy plane ride away, with idyllic views and an opportunity for downtime so that I could reflect, relax and write about the 3 new products I will begin to pre-sell on June 22nd at our biggest Summer Soirée event ever.
The pressure was on to name these three beauty products; products that are already raising brows (literally and figuratively) in the beauty industry and that can change the trajectory in the brow industry for people around the world. I also needed to have a website, photos, and videos of the products, and a master list of everything we needed to get these Genuist Beauty products ready for our elite, 'clients only' Summer Soirée presale on June 22nd. 
Not having an office at the Authentic Beauty studio and seeing 18 or more clients a day while managing staff and operations further deterred my ability to clear my mind and write out a tangible plan for this launch. It just didn't seem plausible in Atlanta. So, I looked at my schedule and Memorial Day weekend looked to be the best time to try and get away and give myself Sunday night through Wednesday morning to work, write, and set my goals on paper in a quiet locale.
I knew I didn't want to travel more than 2 to 3 hours by air, and I wanted to be by the water. In the words of Rick Riordan, "The sea does not like to be restrained" and I needed to be free from obligations with unfettered time to unleash my creative visions on the page. As always, my clients are often my greatest source of inspiration so I asked them for ideas on remote locations to travel to where I could work. The usual suspects like the Panhandle and other parts of Florida were recommended but given the last-minute nature of the trip and the fact it was a holiday weekend made that an improbable destination. I wanted easy, accessible, all-inclusive, and a space where I could be totally focused on writing, creating, and getting my dreams down on the page.
Then, one of my clients recommended I look at Delta Vacations for inspiration on a location. As many of you know from my past adventures to Italy and Paris, Delta does not disappoint and if you are a frequent traveler, definitely look into this program because the perks are worth it. In addition, everything I booked through Delta Vacations would also go towards my Diamond Medallion status.
Finding Poetry in Zoëtry in Cancun: Luxuriating in the Art of Life
I had my list of what I wanted from the trip. I needed a water view, a space I could work from, and all-inclusive amenities including food being sent to my room so that I could work pretty much the entire time I was there. Cancun, Mexico kept popping up, but could I find a small, high-end, boutique resort that met all of my needs in such a touristy location at that time of year?  
Zoëtry Paraiso de la Bonita Riviera Maya fit all of my wants and more. The hotel had 100 beachfront suites with idyllic ocean views, and it was nicely spread out. As their website states, this is a space where a person can "luxuriate in the art of life" and focus on "holistic wellness, peace, and intimate moments" in a room in Cancun's famed Riviera Maya replete with gorgeous views, "gourmet dining and generous suites with lavish amenities." An added bonus is that Zoëtry Paraiso has received the AAA Five Diamond award 17 times. The property also had a spa where I could rejuvenate, refresh, and practice self-care in between my marathon work sessions, and my room had a gorgeous bathtub that I could unwind in too. This looked and sounded too good to be true, but I decided to go for it. 
As Tony Robbins puts it, "Whatever you hold in your mind on a consistent basis is exactly what you will experience in your life. In short, what you focus on, you attract. If you put negative energy into the world, you'll feel like you're living under a cloud. But if you practice gratitude and mindfulness and put positive energy into the world, you'll attract positivity in return." I put my travel wishes out into the world and what I got back in return would be brilliant.
I left Atlanta on Saturday evening on a 6 pm Delta flight. I was thrilled to have my seat upgraded to first class thanks to my Delta travel benefits, and from the start of this trip, it felt like the universe was already setting the tone for a great adventure to include some much-needed relaxation and pampering. 
When we arrived in Cancun, I took a shuttle to the resort. Upon entering the doors of the place, they immediately brought me a cocktail and made me feel like family from the onset. I ordered some food and then checked into my room with a view. Later, I would be lulled to sleep by the calming and hypnotic ocean sounds and ocean breezes. After the best night's sleep, I woke up to a morning filled with gratitude and a breathtaking sunrise. I could get used to this as my office for the next few days. 
The Sun Wakes Up Early Here:
With the sun getting up so early in Cancun, I began my first workday in Mexico early too. My concierge (one of the many perks of staying at this resort) set up a sweat lodge experience for me on Monday and some spa time after that. I was also invited to attend a one-hour presentation and I immediately thought of a timeshare. On a plus, there was no obligation, and I would get a $300.00 spa credit to use on this trip. What could it hurt? So, I set that up for Monday as well and then proceeded to work all day that Sunday. Ten hours later and with lots of work for Genuist Beauty done, I headed to a beautiful dinner of short ribs paired with a bold and memorable red wine. 
The next morning, I woke up to yet another stunning sunrise. I got a bit of work done, and then I headed to the presentation. I can say no to timeshares all day, but again that spa credit was calling me. Much to my surprise, I learned that the Unlimited Vacation Club, a luxurious travel opportunity presented to me, isn't a timeshare program at all. It is a vacation club, and they might as well have written this program directly for me. 
Upon joining the vacation club, I was immediately moved into my private, luxury oceanfront villa replete with a dedicated butler, an elevator, meals at the Red Kitchen with a private chef, a designated infinity pool with entry to a secluded and exclusive beach area, plus additional Impression™ Club & Butler suite-only restaurants, bars and more. After settling into my new suite, I headed to my next appointment with a Mexican shaman who would guide me through a traditional sweat lodge experience.
A Mexican Shaman & the Temazcal:
If you have never experienced a sweat lodge ceremony, let me be the first to explain to you the unbelievable spiritual and physical benefits one can get from this experience. First, a Temazcal is a Mexican ritual with Mayan origins that uses a traditional steam bath that promotes detoxification in the body by sweating out toxins from the pores. As for the spiritual benefits, the steam bath also encourages deep introspection, and I was hungry for insights and craving ideas I could apply to Genuist Beauty. Finally, I wanted to shed anything in my life that was no longer serving me, thus becoming reborn into a person that could lead and bring Genuist Beauty into the world.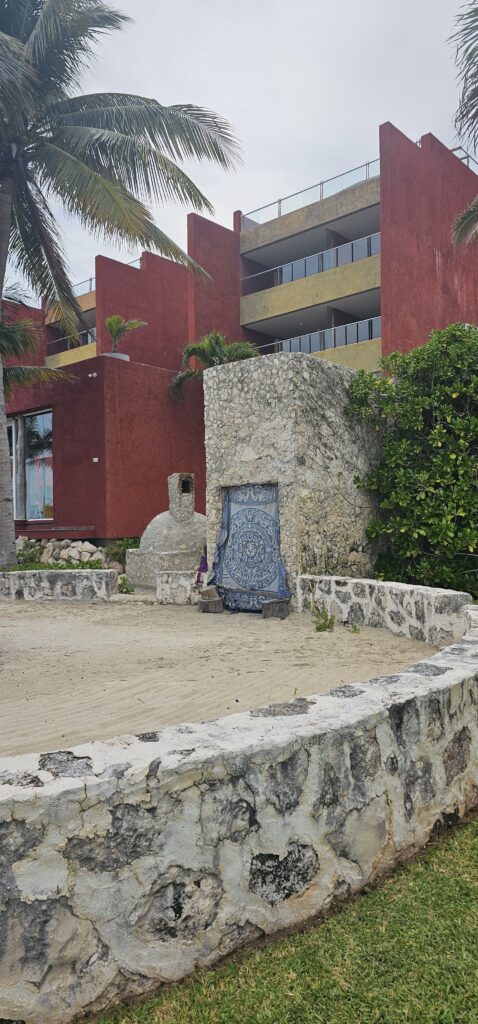 In a world inundated with beauty products that have flashy claims in pretty packaging that rarely holds up to the hype, I felt charged with making a change in the beauty industry. For over 28 years, I have searched for a cosmetics line that had clean ingredients, responsible packaging, effective formulations, and transparent messaging. Going into the sweat lodge, I pondered if I could be the leader that Genuist Beauty needed and stand true to my beliefs, through my words, through my actions, and through the products I've created. But I was always more of the supportive staff type and I did not set out to change the beauty industry when I became a makeup and brow artist. Yet here I was, in Mexico, writing about my dreams and visions for Genuist Beauty with the goal of becoming an industry leader for clean beauty and using the vehicle of transparent but effective products to get the mission across.
My sweat experience began with the shaman addressing the four directions and the five elements. Then, we called in the spirits of my ancestors, and I gave thanks to the people in my life, past and present, and the experiences in my life that made me who I am today. I also prayed for a friend who ended up in the hospital and almost died. I sent her so much love that day and I sent my love to my parents, kids, clients, my creative team, and my salon staff. I blessed everyone I could think of, and then we moved into releasing things from my life that did not serve me. So many emotions flowed through me, and I released so many burdens.
After my sweat experience and with all that spiritual work done, I had worked up quite the appetite and decided to eat while I worked, but it wasn't long before I felt off physically. No, it was not food poisoning or a lack of fluids. It was the aftershocks of the powerful TemezcaI I had just experienced. This was not my first rodeo with sweat lodges and I had prepared my body and mind days in advance. This type of ceremony demands physical and mental energy from you, so it was crystal clear that my body was releasing all the physical toxins and emotions that no longer served me. After a few hours, some medications, and ample support from the wonderful resort staff, I headed to bed feeling better and I recited this affirmation; "I trust the universe, and I must have faith and trust in the process."
The following morning I felt refreshed and reborn as I swam through the private infinity pool at sunrise. Now feeling lighter and more motivated than ever, I began working again, and the ideas flowed so seamlessly to me. I felt unburdened and untangled. 
After a little more work and the after-effects of the sweat lodge experience that made my body feel like I had worked out for weeks, it was the perfect time to cash in the spa credits I had acquired at the Ultimate Vacation Club presentation. The spa was just what I needed to revitalize and restore my well-being. The $300 of credits transferred to two magical hours of pampering at the Thalasso Center & Spa at Zoetry Paraiso de la Bonita. How amazing it was to have a body scrub, body wrap, and a massage complementary to my stay! The technician even braided my hair at the end, an added touch of nurturing and care that left me feeling extra pampered. If I had more time, I would've enjoyed the extra Vacation Club spa perks like the hydrotherapy spa, sauna, steam bath, hot jacuzzi, and plunge pool. I'll have to save that experience for my next trip. (And reach out to me if you want to learn more about the club.)
For the rest of the day, I listened to my body and took things slowly by doing intervals of work, then napping and hydrating, and the sickness I felt earlier eventually subsided. Then, I shot a makeup video, got ready, and headed to my last dinner at the resort (the Peking Duck was superb) before returning to my room to pack up. I felt an incredible amount of happiness, confidence, and hope as I drifted off to sleep. Trusting the process worked!
At sunrise on Wednesday morning, a taxi was my chariot to the airport instead of the Delta shuttle that made so many stops. The flight to Atlanta was pleasant and peaceful, giving me the perfect environment to reflect on my Mexican mission and the results. Restoration and newfound determination filled me; I now had the arsenal to articulate and delegate the master plan to the Genuist Beauty team. Not only did I complete the objectives of this trip, but I also left with the ability to bring my loved ones to Mexico next time and have a place to explore my goals of self-care, travel, adventure, and mindfulness with the vacation club. Clients will tell you, I truly believe every one of you should also give yourselves the gift of your own attention, routinely.
What Mexico Taught Me
Back in Atlanta, I made it to the studio in time for my first client of the day. Upon reflection, it took me longer to get to New York than Cancun and that was even more of a reason to invest in the vacation club. Imagine that!
Also, Mexico further punctuated for me the importance of my self-care routines and traditions that I make a priority in my life. After releasing so much from my body and soul thanks to this trip, I have recommitted with renewed fervor my focus to honor my daily meditations, daily Peloton workouts, and my weekly sessions at Perspire Sauna Studio. Mexico was also a reminder to me to continuously and routinely check in with myself to release things that no longer serve me and invite new practices into my life that bring me joy, purpose, and love. I encourage you to do this too.
Finally, if you aren't familiar with Jay Chodagamis's meditations called Joy with Jay, I highly recommend them. This is also something that gets my day started with an incredible mindset. Check out his meditation on joy and this one to manifest an amazing day. (Jay also did an incredible TED Talk you can listen to here.) 
See the First 3 Genuist Beauty Products at Summer Soiree on June 22nd
All my work in Mexico has led me to the point where I can't wait to show you the first 3 products for Genuist Beauty that will be available for preview and pre-sale on June 22nd at our Summer Soiree one-day sale and party. This is your chance to order your products for presale that day. We have a limited number of products coming in so make sure to get to the pre-sale asap! The sale is limited to local clients in the Atlanta area, and we will have a national sale further into autumn. We can't wait to see you at Authentic Beauty Makeup Salon & Brow Studio on June 22nd.